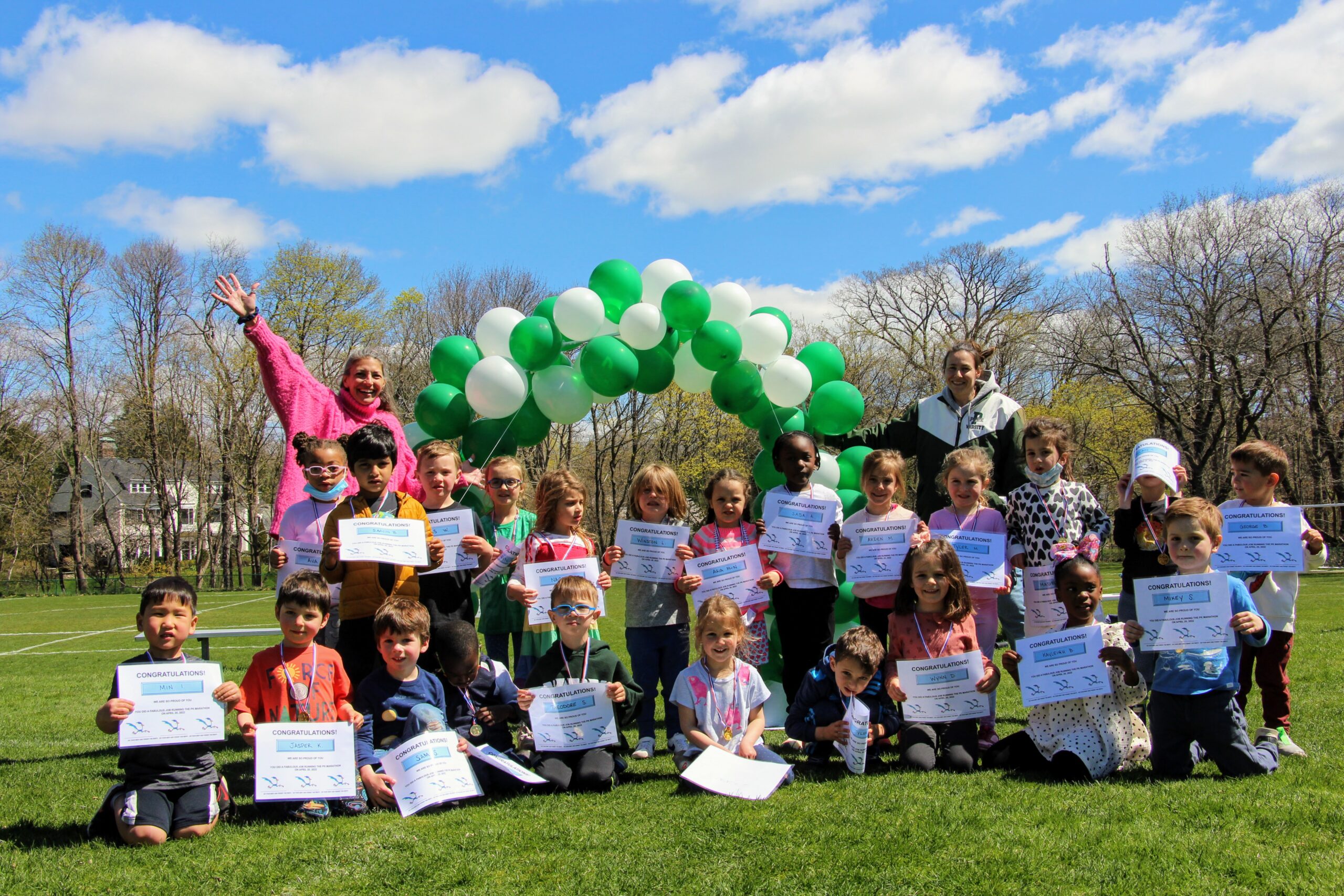 (Above: Celebrating the achievement of having completed the PreK marathon!)
Ask a Park Lower Division student what their favorite class is, and chances are, the answer will be "Recess." Or "P.E." If they say "gym," someone will quickly remind them that "it's not gym class…it's P.E." The gymnasium is a place. Physical Education is a class, and it's so foundational to Park's mission that every student gets to have P.E. three times a week at every grade level, PreK through Grade 8. It's a pedagogically-driven, evolving curriculum that builds a lifelong appreciation for the healthy challenges that promote physical, social, and emotional growth. As Head of School Scott Young has noted, at Park, "one of the things we really emphasize is 'the Whole Child'—not just who they are intellectually, but who they are socially, who they are emotionally, and who they are morally, and how all those things translate to who they are as an individual child."
As much as anything else we do at Park, the commitment to a PreK–8 Physical Education program speaks to that. Add to this the opportunity students have beginning in Grade 4 to try out the team sport experience while continuing to reap the benefits of physical education, and you have a wonderful formula to support Whole Child growth.
"Academic excellence" in the classroom is just one component of meaningful education, while the skills, confidence, and relationship-building that happens on the playing fields and in the gym is also essential. Park families may be inclined to take this for granted. The interweaving of P.E. into daily life and its impact on the evolution of growth mindset is just part of the oxygen that feeds us at Park. Yet at many schools, the commitment to P.E. tapers off in the middle school years. Upper Division Head Ken Rogers believes that's a real loss. "We value Physical Education as part of what we mean by 'academic excellence,'" he says. "There are structures and habits and attitudes about being physically active that you don't get from team sports. Valuing the 'Whole Child' as we do, we appreciate the importance of play. We appreciate the importance of learning how your body moves, and of creativity. And we believe it's important that our students come to see themselves as active human beings."
At many independent schools, the middle school P.E. requirement (which is, unfortunately, often viewed as just a "requirement") is shunted to the after-school hours in the form of required athletics. Director of Physical Education Michelle Young notes that "There's a lot of importance about being on a team, and at the same time, athletics and P.E. are two different things." A mandatory athletics program may be great for those kids who thrive in that environment, but it would be inconsistent with the educational mission of a school like Park that believes every student should feel known and seen, come to know themselves and their passions, and have a deep sense of belonging.
As Ken Rogers observes, "It's possible to be physically active and not be an athlete. Programs that require sports imply that everyone is an athlete." And that exacts yet another price. Ken notes, "If everyone is at sports at the end of the day, they don't get to explore what else might really excite them. Our after-school drama program is a good example of that—while a student can participate in a theater elective during the academic day, the after-school drama program provides students who want to be part of the cast of a drama production the opportunity to do so, after school, in a time slot that might otherwise be claimed by team sports." Similarly, this allows students who want to prioritize music lessons or other enrichment programming time in their schedules to do so. Park's strategy ensures that all students benefit from P.E., while each also has the opportunity to discover their own passions—whether it's through athletic competition, or through another after-school activity like drama, music, or visual arts.
Respecting the Pace of Childhood
"What's great about P.E. at Park," Michelle Young observes, "is that the student journey goes from basic movement to lifetime skills, taking risks and gaining confidence along the way. We do push your comfort levels a bit—and I think being pushed out of your comfort level a little bit is where a lot of that learning and that growth goes on. Our motto is, 'Do Your Best and Forget the Rest.'"
While most teachers work with a relatively narrow age group, Park's P.E. team works across divisions, across age groups, and is able to connect with them all. One day in April, Michelle worked with a group of Grade 5 students attempting to scale the West Gym climbing wall for the first time. The lesson started with safety—how to set up the harness, how to orient oneself to the wall, how to let the partner holding your safety line know that you're ready to come down, how to let friends know that cheering out loud will rattle you on the wall—and then moved on to execution. Students approached the wall with varying degrees of excitement, confidence, and trepidation, and it was especially wonderful to see the kids who started out most timid proudly reaching the top as their friends cheered them on.
And then, not 40 minutes later, she led a three-ring circus of PreK students by the smaller climbing wall in the Main Gym. While Grade 5 students have the capacity to wait their turn on the climbing wall, the little ones need constant engagement. Michelle divided the students into three groups: while one- third of the group prepared for their PreK Marathon by running laps around the gym, another group invented elaborate ways to toss and catch colorful scarves, and the final group lined up, criss-cross-apple-sauce, on the floor in front of the climbing wall. She then explained the climbing wall and guided the children along, with gentle words and encouragement and a supportive hand. Every climber—whether they made it to the top or just a foot off the ground—felt proud, and every child in the other two groups couldn't wait for their turn. Fear had no place here; discovery and accomplishment ruled. Meanwhile, they also learned sharing, and patience, and the importance of focusing on their own tasks even with the exciting climbing wall in the corner of their eyes when it wasn't their turn.
On another day, Michelle led a PreK class in learning a very special dance—basically, for those who saw the '70s first hand, it was The Hustle. The P.E. program may look like we're all just having fun—which we are—but it's also supporting a deliberate, thoughtful, developmentally appropriate progression. Michelle explains that the arc of the PreK through 8th grade Physical Education program starts with PreK–1 really thinking about moving their bodies—local motor skills, non-local motor skills, and coordination. She continues, "Then, for the 2nd–4th grade, it's really reinforcing those skills you've learned, and how to combine those skills with more manipulative type skills with equipment. From there, our 5th through 8th grade students are learning about life skills and how physical activity can benefit you and translate into real life situations. And we're trying to do that while at the same time respecting the pace of childhood."
Scott Young is thrilled by the benefits Park's new turf field will bring to our P.E. program as a space where, four seasons a year, our students can be outside, playing and engaging. He is equally excited about the ways in which the new adventure equipment coming to Park for next fall will expand these opportunities. "The Park journey focuses so much on the physical needs of our children, and the adventure equipment is critically important to that. It is a different way to be physical. It's not sport, and it's not training…it is problem-solving and engaging in a physical realm, working with friends, working with partners to tackle obstacles. It opens up a whole new realm for our students in terms of what they can do here at Park and how they are fed as a whole child."
Michelle expands on this thinking, noting that "Trust is important, taking risks is important, getting out of your comfort zone is important, team-building is important, really for any age group. This is a chance for our students to say 'I see you, I've got you, I'm with you, and we're going to do this journey together.'"
Grade and Poise: Educating Students to be Good People
Dana Welshman-Studley '85 is a big believer in Park's P.E. program. "We are lucky," she says, "to have P.E. through 8th grade three times a week. It's an amazing P.E. program. Students are learning how to cooperate with others and to make things work. The athletics piece is the 'over and above,' which so many of them are desperate to have." Athletics, Dana believes, presents the moment when students can "really work hard and prove themselves," reveling in the opportunity for competition.
The arc of athletics at Park begins in Grade 4, when students have the opportunity to join in intramural sports. "They begin to build their foundation, gain basic skills, and build a platform from which to build," Dana says. Interscholastic sports begin in Grade 5, and students have the option to participate in competitions against other schools through Grade 8. Dana smiles, "Students really love that opportunity to represent Park School!"
It's very important for students to learn how to win, and to learn how to lose. And to do it all with grace and poise." — Dana Welshman-Studley '85
Current students, especially the athletes, are already excited by the prospect of the new turf field coming for Fall 2022. As Scott notes, the new field will "elevate the ways we think about athletics. Our students who love athletics, love teamwork and collaboration. They are inspired by competition, and having a world-class competitive space will elevate their sense of who they are and what athletics can be at The Park School." Ken Rogers adds, "It's a different experience, playing on quality fields, and it also prepares students for high school athletics."
Fundamentally, however, the athletics experience is about more than just skills. "It's very important for students to learn how to win, and to learn how to lose. And to do it all with grace and poise," Dana says. "The goals of our program really are about character building. We want them to learn the skills and we want them to be happy basketball players or field hockey players. But we also want them to be good people. We want them to learn how to be a member of a team. How to support other people and receive support from other people. We want them to learn how to be on time, to have all the belongings they're supposed to have when they get where they are going, and to communicate well. All those skills come from team sports, and are super important."
One of the Things that Makes Park "Park"
At Park, we're so lucky to have the gymnasium space, the fields, and the creative, dedicated Physical Education and Athletics personnel that collectively support an exceptional, thoughtfully layered program that truly reflects Park's commitment to educating the "Whole Child." Sure, students grow in physical fitness, as athletes, and as teammates, but they also grow as well-rounded members of a civil community. This unique part of Park's curriculum is deeply rooted in Park's mission—simply put, it prepares them for life.